Generations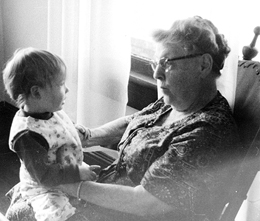 Genealogy Research by Elizabeth Harris
---
I'm Elizabeth Harris, now retired but formerly a biologist at Duke University. I've been working on my family history since the early 1990s, and I've put some of the information I have onto the web, in order to make new contacts and to help others with their research. I'm working on several different clusters of families in several geographic areas, and I will continue to add new information as time permits. Please check back occasionally to see what's new.

This site replaces my original site at www.duke.edu/web/chlamy/.

The picture above is of my older daughter with my grandmother.
---
My areas of interest are as follows:
Mostly Moravians and other German-speaking settlers in the Winston-Salem NC area (Rowan, Stokes, Forsyth Counties) . My cousin Faye Jarvis Moran and I have an extensive web site on our families in this area. We have many links to other names - please take a look to see if yours appear!

The names in my direct line on this site are:
DIEZ, DOUB, ELROD, ESCHENBACH, FREY, GRABS, HAUSER, HEGE, HOLDER, KOERBER, LANIUS, PFAFF, ROMIG, ROMINGER, SPAINHOUR, TRANSOU, VOLCK (FULK), WALK, and WERNER

Davie County NC , partly linked to Faye Moran's page listed above. Surames include:
BRINEGAR, BROCK, BROWN, CHINN, CUTHRELL, HELPER, and HENDRICKS

Mostly Quakers in Randolph, Guilford and Alamance Counties, NC :
BLAIR, ENGLISH, HINSHAW, MILLIKAN, TOMLINSON, and associated families. The Mendenhall Family Association page includes some of these same families.

Other families in central NC, including Guilford, Randolph, Moore, Alamance, Chatham, and Orange Counties :
ALLRED, BRAY, BROWN, CAMPBELL, COE, DEATON, DICKENS, DURHAM, ELLIS, GEAN, GODWIN, GOODWIN, GRAY, GRIFFITH, HARMON, HENSON, LAMAR, MANSFIELD, McKENZIE, McNEILL, MONROE, MOORE, PICKARD, SEAWELL, SMITH, TROGDON, WALLACE, and YORK

Union, Mecklenburg and Cabarrus Counties, NC:
AUSTIN, CAWTHORNE, CONDER, COPE, HARRIS, JEROME, MCLARTY, MORRISON, PLUNKETT, REA, and THOMPSON.

Eastern North Carolina, primarily Bertie, Hertford, Nash, Northampton and Wilson Counties:
BAZEMORE, EARLY, GODWIN, ODOM, PERRY, WHITE, WHITLEY, and WILLIFORD

The Norfolk, Virginia, area, going back to the 1600s:
BALLENTINE, CAWSON, CHURCH, CUTHRELL, ETHERIDGE, FLEMING and others. I have quite a bit of information on various other families in this area before about 1750, and would be happy to share.

Lycoming County and Susquehanna County PA, and adjacent NY: BOATMAN, CONNELLY, CONNER, ENGLISH, HARRIS, and HOLFORD

Ohio and West Virginia: ANDERSON, COX, HOLBERT, MOREHOUSE, RODERICK, and SICKER. The RODERICKs share ancestors with the ROTHROCK family of PA and NC.

Central Virginia, especially Bedford, Campbell, Hanover, and Louisa counties, but other counties as well: AUSTIN, CLARK, GRIFFITH, IRVINE, JOHNSON, NICHOLS, PHELPS, POLLARD, SMITH, TUCKER and WOODY

New England, especially Connecticut, before 1800. Names include BARBER, BIRDSALL, BLACKWELL, COOK, HALL, HART, HAWLEY, JENNEY, JEROME, LATHROP, LOOMIS, MERIHEW, PARMELEE, ROYCE, SPOONER, WARREN, and many others. I'm not actively researching these names at present, but have information on many of them and again, would be happy to share.

Northern Georgia , with some NC connections: IVESTER, MOSELEY, PORTER, SIMS, WHISENANT, and WILBANKS
---
Family Photo Album
---
Genealogy resource pages (out of date, may have non-working links)